Savannah Ground Loofah.
1 kilo = 2.2 pounds, 1 pound = 0.45 kilo.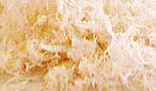 Our Savannah ground loofah is available in soft and coarse textures. Our ground luffa is produced from our superior Egyptian loofah and is unbleached nor treated by any chemicals.
Ground loofah is an excellent exfoliate for skin care and is widely used now in soap mixtures.
Ground loofah can also be used in crafts, temperature and sound insulation. Research is being carried our now to use ground luffa as a natural additive in construction material and also as an environmental friendly filter media.
We offer our Savannah ground loofah as follows :
- Bulk packed in carton boxes or bales.
- Consumer packages of 4, 8 and 16 Oz. or of 125, 250 and 500 gms.
Prices :
Quantity

Soft Texture Price / Kilo

Soft Texture Price / Pound

Coarse Texture Price / Kilo

Coarse Texture Price / Pound

5 -10 Kilo

2.2 - 22 pounds

US$ 15.50

US$ 7.05

US$ 12.50

US$ 5.68

10+ Kilo

22+ Pounds

US$ 12.50

US$ 5.68

US$ 10.0

US$ 4.55

For large quantities, please inquire.
| | | |
| --- | --- | --- |
| Quantity | Price / Kilo US$ | Price / Pound US$ |
| | | |
| | | |
| | | |
| | | |