Savannah Whole Luffa Sections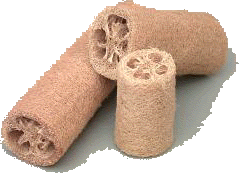 Our whole loofah sections are clean, seed free, bleached or unbleached according to customer requirements.
Our luffa sections are compacted prior to packing and packed in carton boxes. It springs back to it's normal cylinderical shape when removed. Our standard box 65cmx35cmx35cm contains 150 whole luffa sections 30 cm long and 10 cm wide.
Our whole loofah sections have no, or very little, difference in widths between the middle and ends. We do this by selecting luffa that is at least 10 cm (4 inches) longer than ordered size and we remove about 5 cm (2 inches) from both ends. These ends are, in any case, of inferior quality than the middle section of the loofah that we send you. When you buy our whole luffa sections you are sure that there is no waste and what you buy is 100% usable.
Our whole loofah sections are available in the following sizes:
| | | | | |
| --- | --- | --- | --- | --- |
| Length | Width | | Length | Width |
| 10 | 7 - 10 | | 20 - 25 | 15 - 20 |
| 10 | 10 - 15 | | 30 | 10 - 15 |
| 10 | 15 - 20 | | 30 | 15 - 30 |
| 20 - 25 | 7 - 10 | | 35 | 10 - 15 |
| 20 - 25 | 10 - 15 | | 35 | 15 - 20 |